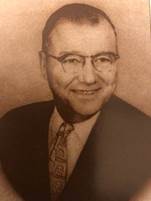 "Oh, I wish that I could pull back the curtain on that awful place, and let you peer into Hell...." Bro. Josh Tarr serves a heavy dose of reality, warning the sinner of their future if they will not repent.
I never had the privilege of hearing Brother Josh Tarr peach in person, but I have heard all my life about the impact that his preaching had on the church. After listening to this sermon, I can see why. He seems to embody the old song, "preachers in those good old days were filled with holy flame, preaching for the souls of men and not for worldly fame."
I'm excited to be able to offer this clip for you to listen to this week. God bless you.
In Christ,
David Copeland